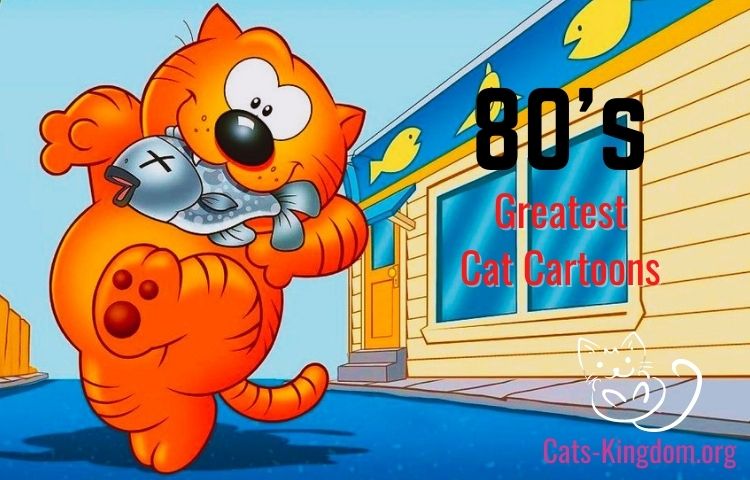 I am a 90s kid, and while growing up I was surrounded by many great cat cartoons on TV. Maybe that's the reason why I fell in love with this beautiful creature.
As I was thinking for new blog post ideas on the internet, I came across a meme of Sylvester the cat and all the memories of that show from my childhood came rushing back.
So I decided to write a post on the 7 Best Cat cartoons from the 80s that were a big part of my childhood. I can say with confidence that these shows are better than cartoons created at present.
EDIT: After completing this post, I got inspired to create another post on the best Cat Cartoons from the 90s. You can check it out by clicking on the link.


7. Henry's Cat
Description: A story of a cat's adventure with his friends and enemies.
Aired: 1983
Henry's Cat is one of the very few cat cartoons from the 80s that had a very successful run on the TV. The show went on to have five seasons and ended in 1993 i.e a decade after its initial release.
It is a testament to the great quality of the show that made it so loved among the public. It is a humorous and light-hearted cat cartoon that can make you laugh even in bad mood.
Summary
One funny thing about this show is that for its entirety, the name of the main character of the show i.e. the cat is not stated. The whole time he is addressed as Henry's cat which is amusing to watch.
Henry's cat is a yellow lazy cat that loves to eat. He enjoys his adventures with his animal friends on the farm. He also has some rivals and haters who'd love to kick him out. But Henry's cat and his friends deal with them in a humorous way.


6. Heathcliff
Description: It is about an orange cat who acts superior and has a habit of stealing food.
Aired: 1980
Heathcliff is a popular American comic strip that was adapted into a cartoon show in 1980 under the titles 'Heathcliff and Dingbat' (13 episodes)and 'Heathcliff and Marmaduke' (13 episodes).
The format of this cat cartoon from the 80s is a little different. Here, each episode of the show was divided into two segments, where one half was given to Heathcliff stories and the other half was given to Dingbat and Marmaduke.
Summary
Heathcliff Segment: The show follows the life of a cat named Heathcliff who has a superiority complex. He has the habit of stealing food and always finds himself in trouble because of it. He also has a Girlfriend and he is quite possessive about her. He is truly caring towards his friends, family, and girlfriend.
Dingbat Segment: Dingbat and the Creeps revolved around the adventures of three monsters, a vampire dog, a skeleton, and a jack-o-lantern.
Marmaduke Segment: The story revolves around the Winslow family and their dog Marmaduke who is a Great Dane(breed).


5. ThunderCats
Description: A team of humanoid cats fighting evil in their adopted homeworld.
Aired: 1985
ThunderCat is a perfect example of a beautiful combination of the art of two nations. ThunderCats is one of the most successful collaborations between Japan and America. The story of the show and voiceover is done in America and the animation for it is done in Japan.
It is one of the classic cat cartoons from the 80s that is filled with thrilling action and fun.
If you like cats and anime, you can check out my other post on Best Anime Cat boys by clicking on this link.
Summary
Thundercats is a species of anthropomorphic cats that live on planet Thundera. Their planet comes under attack from a powerful entity and they have to leave their planet to survive.
Thundercats find shelter on planet earth. Now their enemy is trying to harm Earth and it is up to the Thundercats to protect their new home.


4. Garfield and Friends
Description: A story of a pet cat named Garfield and his animal friends.
Aired: 1988
Garfield and Friends is a very famous cat cartoon from the 80s that to this day is loved by a lot of people including me.

At the time the show aired in 1988 it was merged with another show called U.S Acres. Each episode had three segments, two of Garfield and one of U.S Acres.
The cartoon continued for four years and released a total of 242 Garfield segments and 121 U.S. Acres segments.
This show's popularity led to the creation of a brand new series called 'The Garfield Show' in 2009 and is streaming on Netflix.
Summary
Garfield Segment: Garfield is a pet cat who lives with his owner Jon and his pet dog Odie. Garfield is an overweight, super lazy cat who likes to eat. He is sarcastic and likes to mock Odie and do pranks on him.
U.S Acres Segment: The cartoon showed the daily farm life of Orson Pig and his barnyard friends.


3. Heathcliff and The Catillac Cats
Description: A story about the adventurous life of Heathcliff the cat.
Aired: 1984
You must be wondering why I've included Heathcliff again in this list of best cat cartoons from the 80s.

It is because this series was released after 4 years of the original and presented new episodes of Heathcliff. Also, just like the original one, it came merged with another story and too of a cat, making it a must-add to this list.
Summary
Heathcliff Segment: Heathcliff is a smart and popular cat in his town. The story follows various scenarios Heathcliff ends up in and how he go about different scenarios and changes things in his favor with his smartness and a little help from his friends.
The Catillac Cats Segment: The story follows a cat called Riff Raff and his group of friends trying their luck with get-rich-quick schemes and searching for food.


2. The Tom and Jerry Comedy Show
Description: A comedy TV cartoon based on a cat and a mouse who are always trying to make each other's lives miserable.
Aired: 1980
I am sure a few of you might have predicted about Tom and Jerry being on this list.

Originally the show started airing on TV in 1975. The one added in this post is the second installment of the most popular cartoon in history.
The Tom and Jerry Comedy Show aired in the early 1980 and set the tone for all the cat cartoons from the 80s and maybe that's why we got some much good content in that decade (just kidding).
Summary
The Tom and Jerry Comedy Show is a 15 episode long series with 45 small segments. The show revolves around the daily encounters between the two main characters, Tom and Jerry.
Both are arch rivals of each other and are always finding ways to torment each other. But the two also share a deep bond with each other that they're also unaware of.


1. The Sylvester & Tweety Mysteries
Description: A group of pets along with their owner solve mysteries around the world.
Aired: 1985
As I mentioned in the introduction, the main character of this show was my inspiration to create this post of best cat cartoons from the 80s.
The characters of this show are very popular even among the younger generations, which is proof of this cartoon's great quality.
Everything from animation to voiceover is done brilliantly on this one and the humor is timeless.
Summary
The show revolves around the adventures of Sylvester the Cat, Tweety the bird, Hector the bulldog, and Granny who is the owner of all three animals.
Together they solve mysterious all around the world. But there is one problem, Sylvester wants to eat Tweety because they are natural enemies.

Though all his plan of eating the bird is thwarted by Hector who acts as Tweety's bodyguard.