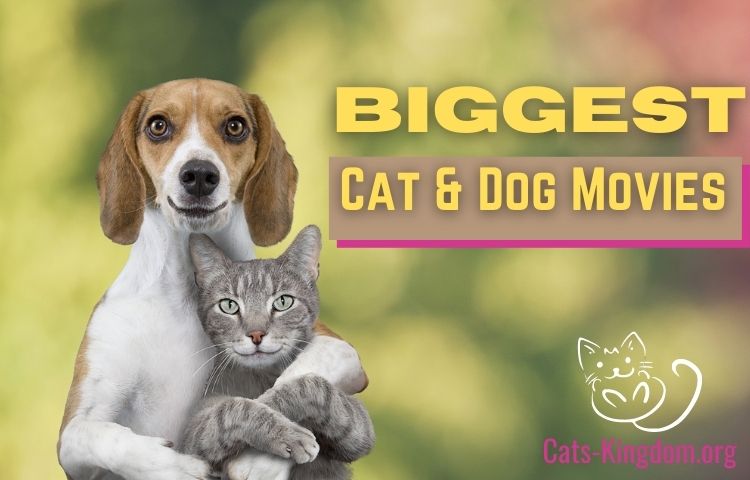 Some of the funniest and most emotional movies that I have watched had a cat or a dog in them. And the fun gets doubled when these amazing creatures are together in a movie.
In this post, I'll be mentioning my 12 Most Favourite Cat and Dog Movies that have made me laugh and cry tears of joy.
Hope you enjoy reading this post as much I enjoyed creating it. Let's go.


12. Lady and the Tramp
Description: A sweet love story of a dog couple.
Year: 1955
Genre: Adventure, Comedy
Lady and the Tramp is basically a dogs movie but the reason for adding it to this list is that it has one of the most iconic cat characters from Disney.
Since the role of cats in this movie is not significant, that's why I've placed this movie on the bottom.
Summary
The movie follows the adventurous love story of a street dog named Tramp and a female pet dog named Lady.
Since the two comes from different backgrounds, there are lots of challenges in their relationships and one of them is a pair of sinister cats called Si and Am.


11. One Hundred and One Dalmatians
Description: A cruel villainess abducts 101 dalmatian puppies and a team of a dog, cat, and a horse comes to the rescue.
Year: 1961
Genre: Adventure, Comedy
101 Dalmations is one of the most famous Disney movies. It is also a dog movie but with a cat character named Sargent Tibbs in a major role.
A very gripping storyline and is entertaining throughout. The interactions between Colonel (the dog) and puppies with Sargent Tibbs are truly wholesome.
Summary
A bad woman named Cruella abducts 101 Dalmatian puppies for their fur.

The puppies' parents along with some allies (a dog, cat, and a horse) begin a rescue mission to save the puppies and bring them back from the clutches of Cruella safely.


10. Garfield
Description: Garfield is in search of Oddie after he got abducted.
Year: 2004
Genre: Adventure, Comedy
Garfield is one of the most popular cartoon cats in the world, it was originally created by Jim Davis in 1978.

This cat and dog movie did fairly well financially but did receive some critical reviews from the public.
Summary
Garfield is a lazy tabby cat who lives with owner Jon. One day Jon brings in a new pet dog named Oddie. Garfield finds it difficult to settle with Oddie but they somehow get along with each other.

But things take a turn for worse when Oddie gets abducted and it is up to Garfield to find him.


9. Bolt
Description: An alley cat helps a famous dog who got lost.
Year: 2008
Genre: Adventure, Comedy
Bolt is a 2008 American animated cat and dog movie created by Disney.

The movie follows the journey of Bolt, who lived his whole life in a bubble filled with misconceptions, and with the help of Mittens, an alley cat, he gets to experience the real world.
Summary
Bolt is a famous dog who plays the role of a super dog in a TV Show. He lived his whole life in the TV studio and have the delusion of actually having superpowers.

When separated from the TV Studio by accident, he realizes that his whole life has been a lie. But luckily he meets an alley cat named Mittens who decides to help Bolt get back home.


8. Marmaduke
Description: Adventures of two best friends a dog and a cat.
Year: 2010
Genre: Comedy
Marmaduke is a movie inspired by the famous comic strip of the same name. Marmaduke is a story of a dog and his best friend, a cat.

Though this cat and dog movie could have had better execution, all in all, it's a good watch with family.
Summary
Marmaduke is a Great Dane. He lives with owner Phil and his family. Marmaduke has a cat best friend named Carlos and together they have lots of fun.

One day Marmaduke develops a crush on a female dog. Carlo decides to help him and thus a new adventure begins.


7. Star Paws
Description: The battle between Cats and Dogs goes Galactic!
Year: 2016
Genre: Comedy, Adventure
For the lovers of cat and dog movies who also enjoy watching sci-fi movies, Star Paws is made for you. You'll enjoy watching these beautiful four-legged animals battling out in space.

Kids will enjoy this movie and it is also a good onetime watch for adults.
Summary
An evil cat named Adventure cat with an army of clone kitties is looking for a magical bone to take over the Galaxy.

It is up to the Space Dogs, an elite force headed by General Ruff to stop Adventure Cat from wreaking havoc on the Galaxy.


6. The Adventures of Milo and Otis
Description: A story of two friends, a cat, and a dog searching for each other after getting separated.
Year: 1986
Genre: Drama, Adventure
The Adventures of Milo and Otis is a Japanese cat and dog movie with the message of friendship. It has been translated into more than 50 languages and is loved by children and adults alike.

The movie was a major hit and was an inspiration for many future films.
Summary
Milo the Cat and Otis the Dog grew up together on a farm and are best friends. The two get separated by accident and begin a journey to find each other.

The task is tough but for the sake of friendship, they will go through any perilous quest.


5. CatDog: The Great Parent Mystery
Description: The cat and dog siblings go on a search to find out about their parents.
Year: 2001
Genre: Comedy, Adventure
It very successful cat and dog movie which is a spin-off of one of the best TV cat cartoons that came out in 1998.

If you decide to watch this movie, you need to have a little knowledge of the premise of the cartoon show to properly understand it. It is hilarious to watch and an excellent way to pass time.
Summary
The movie revolves around a dog and a cat, conjoined by birth. They share the same body.

During the Parent day festival in their town, CatDog feels a little left out, so Dog suggests Cat an idea to look for their parents


4. The Secret Life of Pets
Description: Adventure story of couple of house pets living in an apartment building.
Year: 2016
Genre: Comedy, Adventure
The Secret Life of Pets is a 2016 American 3D animated movie with one of the best animations.

It is a highly entertaining movie about a dog named Max and his animal buddies including many cats. As the name suggests, the movie is about the lives of pets when their owners are not around.
Summary
Max is living a great life with her owner and his animal friends. One day his owner brings a new dog, Duke to the house.

The two don't get along at all. They try to get rid of each other and end up getting into huge trouble with a gang of discarded pets.


3. Cats & Dogs
Description: A battle between cats and dogs from supremacy.
Year: 2001
Genre: Comedy, Action
Cats & dogs is a famous animal movie that was originally released as a kids' film. However, it didn't do very well with kids, so it was re-marketed as an adult-oriented comedy.

That approach worked out much better and it became one of the most famous cats and dogs movies ever.
Summary
Cats and Dogs are two highly advanced species that are always at odds with each other. When a scientist develops a serum that will cure humans of dog allergies, an evil cat tries to stop that from happening.

He aims to take over the world and it is up to the dogs to stop him.


2. Homeward Bound: The Incredible Journey
Description: Two dogs and a cat embarks on a treacherous journey to get back home.
Year: 1993
Genre: Comedy, Adventure
Homeward Bound: The Incredible Journey is one of my favorite cat and dog movie that made me very emotional.

It is a very wholesome movie that shows the pure sentiments and loyalty of pets towards their owner. Definitely worth watching.
Summary
Three pets, a wise dog, a witty puppy, and a sassy cat gets separated from their owners during a vacation.

The animals decide to go on a journey all across America to get back to their owners who are also looking for them.


1. Oliver & Company
Description: A lost and alone kitten joins a gang of street dogs in New York City.
Year: 1988
Genre: Comedy, Adventure
Oliver and Company is the best cat and dog movie from the Disney franchise. Even though the movie came out in 1988, it hasn't lost its popularity over time and is timeless.

The movie is highly entertaining and touches the hearts of its viewers.
Summary
Oliver is an orange homeless kitten that is taken in by a gang of street dogs who survive by stealing from others.

Oliver becomes a part of the team and follows the lifestyle of the dogs until he meets a rich little girl and his life changes forever.