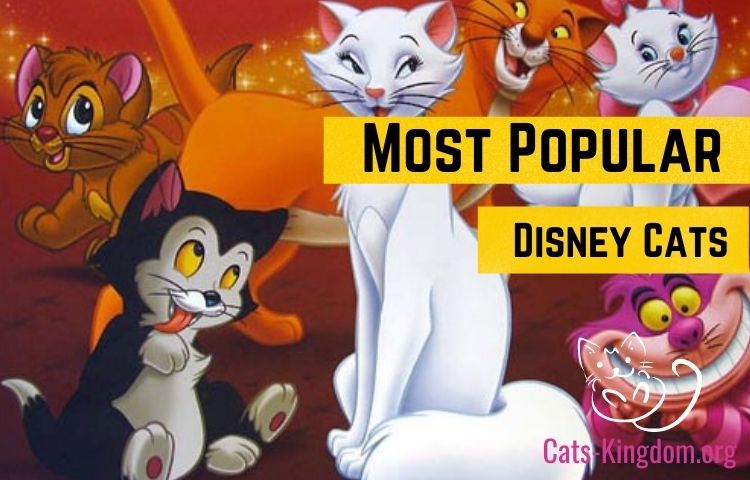 Disney has been one of the biggest content creators for the past century, and in that long period, we have got many iconic movies and shows from the Disney Brand.
Since our site is dedicated to cats, I felt it was important to pay homage to all the classic Disney cat characters that are loved by people all around the globe.
So, here's the list of the 25 Most Iconic Cats from Disney Movies and Shows that are forever going to hold the legendary status.


25. Captain Amelia
Debut: Treasure Planet
Year: 2002
Personality
Amelia is an alien who looks like a half-human and half-cat. She is the captain of a spaceship. She is very capable, intelligent, and strong-willed.

She hates flattery and always talks to the point. Amelia is very formal while speaking and as a captain is very dedicated to her work.
Appearances
Amelia is the main character of a successful movie that came out in 2002. That's the only time we see Captain Amelia in any of the Disney productions.


24. Mittens
Personality
Mittens is a very smart cat that learned to survive on the streets of New York on her own. She was abandoned by her masters which brought darkness to her personality.

But despite all the sadness, she is funny, sarcastic, and friendly.
Appearances
Mittens is one of the main characters of the movie Bolt that came out in 2008. Bolt is the only Disney featured film that Mittens is a part of.


23. Jake
Debut: The Cat From Outer Space
Year: 1978
Personality
Jake is a very smart cat that came from another planet. He is even smarter than most humans He gets stuck on planet earth and looks for ways to get back home.

He is resourceful and very calculative. Jake is also very kind and doesn't treat anyone less than him.
Appearances
Jake is the protagonist of the 1978's movie, The cat from outer space. It is a special one-time Disney movie and thus Jake doesn't have any other movies and show under its belt.


22. Si & Am
Debut: Lady & the Tramp
Year: 1955
Personality
Si & Am are a sinister cat pair who looks identical and always stick together. Not just their looks but their behavior is also the same.

They like to create trouble for others and take joy in their misery. They don't even really care for their owner who loves them very much.
Appearances
The two identical cats made their debut in the Disney world with the movie Lady and the Tramp and were also seen in the sequel of the movie. Their other appearance includes a minor role in the show House of Mouse.


21. Fat Cat
Debut: Chip 'n Dale Rescue Rangers
Year: 1988
Personality
Fat cat is the pet of a criminal master and he is exactly like his master. He is evil and acts as a proper mafia boss in front of all the furries.

Though he acts like a normal cat in front of humans. He is a mastermind who is always thinking of doing bad stuff.
Appearances
Fat Cat is an evil Disney cat character from the series Chip n Dale Rescue Rangers. It is the only show he has appeared in and there is no other appearance of him in the Disney universe.


20. Waffles
Debut: Goof Troop
Year: 1992
Personality
Waffles is the pet of a very popular Disney cat character named Goofy. She is a very lazy cat who just loves to sleep.
She also is very fond of eating and playing Frisbee. Waffles hate her neighbor's dog and enjoy tormenting him.
Appearances
Waffles is not a very prominent cat character from Disney and that's why she is not seen in any other Disney movie or series other than Goof Troop that came out in 1992.


19. Kat Nipp
Debut: The Opry House
Year: 1929
Personality
Kat Nipp is the antagonist of Mickey Mouse Stories. He is grumpy and very territorial and doesn't like others entering his space.

Though he is not kind, he doesn't take any action if not provoked. Except for Mickey, he is mostly friendly to all around him.
Appearances
Kat Nipp is the OG Disney cat character who is probably one of the oldest cat characters from Disney. He was first shown in a short film called The Opry house in 1929.

Later Kat got features in When the Cat's Away and The Karnival Kid. There was a special comic strip, "Mickey Mouse vs. Kat Nipp" that used to be published at that time. In 2019, Kat Nipp appeared in Kingdom Hearts III.


18. Rajah
Personality
Rajah is the proud and brave tiger pet of Princess Jasmine. He is very protective of his master and likes to be praised by her.

He is aggressive and does not tolerate if someone tries to harm or make Jasmine uncomfortable. He doesn't easily get close to others.
Appearances
Despite being a minor character in the Aladdin series, Rajah is a very familial and constant character in all the major movies and series. He was first introduced in the first edition of the Aladdin movie in 992.

Later he appeared in the following movies/shows in minor capacity; The Return of Jafar, Aladdin the series, Aladdin and the King of thieves, Disney Princess Enchanted Tales: Follow Your Dreams, and House of Mouse.


17. Sabor
Personality
Sabor is the most ferocious big cat on this list and probably one of the most deadly Disney characters of all time. She is ruthless, agile, and determined. She never backs down from a fight.

Sabor is one of the most feared leopards in the Tarzan movie and one of the biggest enemies of Tarzan.
Appearances
Sabor is a major charcter in the Tarzan movie. She is the main antagonist of the Tarzan movie that came out in 1992. She had a brief role in Tarzan 2. And she has been mentioned in The Legend of Tarzan.


16. Felicia
Debut: The Great Mouse Detective
Year: 1986
Personality
Felicia is a fat and overly pampered cat of Ratigan, the antagonist of the movie. She is just as cruel as her master. Ratigan is a rat who is the gang leader and uses Felicia to instill fear in his enemies and his henchmen.
Appearances
Felicia is a villainous Disney cat character that was introduced in the movie called The Great Mouse Detective in 1986.

She is not seen in any other movie or show but some subsequent comic stories have mentions of her.


15. Oliver
Debut: Oliver & Company
Year: 1988
Personality
Oliver is a cute orange kitten. He is brave, kind, and friendly. He is helpful and deeply cares for those he likes. He is smart and resourceful and also a fast learner.

But despite his sweet personality, he also gets angry if someone betrays his trust.
Appearances
Oliver is one of the cutest cats from Disney movies. He first appeared in the movie Oliver and Company in 1988 in which he had the central role. Other than that he got a minor role in House of Mouse.


14. Sargent Tibs
Debut: One Hundred and One Dalmatians
Year: 1961
Personality
Sargent Tibbs is a cat who seems to function as a military personal along with his friends. He is very committed to his role as a Sargent and follows every order and likes to do good deeds. He is also very smart and brave.
Appearances
Sargent Tibbs is one of the nicest cats from Disney movies. His character was first introduced in 1961 in the movie One Hundred and OnenDalmations.

His second appearance came in the movie 101 Damnations that came out in 1996. He is also seen in the series of the same name. His latest role is in a movie called 102 Dalmations.


13. Mayor Lionheart
Debut: Zootopia
Year: 2016
Personality
Lionheart is the very popular mayor of Zootopia. He is noble and dynamic and all the public in Zootopia looks up to him as a role model. He presents himself as an ideal citizen and makes an extra effort to be viewed as trustworthy and kind.

But on the inside, he is quite selfish and egoistic. He can do anything to keep his image clean and uses others to advance his own agenda.
Appearances
Lionheart is a fairly new big cat character and made his debut in the Disney World in 2016. Zootopia is the on Disney production that he has ever appeared in.


12. Prince John
Debut: Robin Hood
Year: 1973
Personality
Prince John is a skinny, slender lion. He is greedy and vicious and loves money more than anything. He doesn't care about his kingdom and is super envious of his brother King Richard. He is immature and a crybaby and blames others for his misfortunes. He has a very habit of sucking his thumb in very inappropriate times.
Appearances
Prince John is the main antagonist of the 1973 movie, Robin Hood. That's the only major role he is seen in Disney World, other than a minor role in the series 'House of Mouse'.


11. Rufus
Debut: The Rescuers
Year: 1977
Personality
Rufus is shown as an old Disney cat character who is the pet of a small girl named Penny. He acts like an old guy and has laid-back behavior.

He doesn't bother with chasing after mice and doing typical cat stuff. He is kind, wise, and deeply cares for Penny.
Appearances
Rufus is not really a popular cat from the Disney movies and the only people who have seen The rescuers know about his existence in the Disney Universe. He has no other appearances in any other movies or shows.


10. Bonkers D. Bobcat
Debut: Raw Toonage
Year: 1992
Personality
Bobcat used to be a famous star who changed his career and joined the police force. He is clumsy and overly cartoony and even if he means well, his action always ends up messing with the situation.

He is not very smart but not a dead weight either. 
Appearances
It is one of the best cat cartoons ever. Disney first showed Bobcat in a small series named Raw Toonage and since the show got a good response, Bonkers D Bobcat got his own show in 1993 by the name Bonkers.

He was also mentioned here and there in other Disney movies but it is not significant.


9. Lucifer
Debut: Cinderella
Year: 1950
Personality
Lucifer is an obese black cat from the very popular Disney movie Cinderella. He is a smart and cunning cat who is arrogant, pompous, and evil.

He likes to put others in trouble and is ruthless to his enemies. He is the villous Disney cat character that is not easy to fool.
Appearances
Lucifer is quite a frequent character in all of Cinderella movies and plays an important role as the minor villain of the story. Other than that he has a small role in another Disney cartoon series, House of Mouse.


8. Cheshire Cat
Debut: Alice In Wonderland
Year: 1951
Personality
Cheshire Cat is quite an unpredictable character that likes to confuse people. He is the first being Alice meets in Wonderland.

He, on one hand, helps her and on the other hand, puts her in trouble which shows that he is kind but also mischievous and likes to have fun whenever he gets the chance.
Appearances
Chesire Cat is a major character in the movie Alice in Wonderland and gets a lot of screen time. He is also seen in House of Mouse-like most of the cats from Dinsey movies on this list.


7. Figaro
Debut: Pinocchio
Year: 1940
Personality
Figaro is a short and moody Disney cat character. He gets angry easily but is also very kind at heart. Figaro doesn't like dogs, bathing, waiting, and being fooled.

He likes to act tough and cool. But deep down, he is really soft and caring.
Appearances
Figaro first made his appearance in Pinocchio the movie and instantly became people's favorite. Disney capitalized on his popularity and gave Figaro his own show named Figaro and Cleo.
He later made many appearances in the Mickey Mouse series. He also got a small cameo in Alice in Wonderland.


6. Aslan
Debut: The Chronicles of Narnia
Year: 2005
Personality
Aslan is a great lion with magical powers. He is the creator and True King of the parallel world of Narnia. He is majestic, wise, and powerful. He is respected by his subjects in Narnia.

Aslan likes peace and acts against anyone who tries to harm Narnia.
Appearances
Aslan appeared as the main character of The Chronicles of Narnia series and has appeared in all of the movies. The names are as such; The Lion, the Witch, and the Wardrobe, Prince Caspian, The Voyage of the Dawn Treader.


5. Duchess
Debut: The Aristocats
Year: 1970
Personality
Duchess is one of the noblest cats from the Disney movies. She is a pet of an aristocrat and acts very politely. She is a mother of three and is an awesome mom who deeply cares about her children.

She is kind and friendly and doesn't judge anyone based on their background.
Appearances
The character of Duchess made a debut in 1970 in the movie The Aristocats. She is the main character of the movie and has the majority of her role in the Disney world.

She has a minor role in a show called 'House of Mouse' and a minor role in a 2015 manga 'Miriya & Marie'.


4. Pete
Debut: Alice Solves the Puzzle
Year: 1925
Personality
Pete is one of the most famous cat characters. He is the arch-enemy of Mikey mouse and the bay guy of the story. Pete is a bully and acts like a thug most of the time.

He is always causing trouble for the protagonists. He is unapologetic and likes the way he is, even if it's bad. 
Appearances
Being a part of the biggest cartoon franchise of Disney means a lot of screen time and Pete has gotten his fair share of exposure in the Disney Universe.

He has appeared countless times since he was introduced in 1925. Naming a few; A Goofy Movie, Mickey's Once Upon a Christmas, Mickey, Donald, Goofy: The Three Musketeers, Goof Troop, Mickey Mouse Works, and House of Mouse.


3. Tigger
Debut: Winnie the Pooh and the Blustery Day
Year: 1968
Personality
Tigger is an over-enthusiastic and jolly stuffed toy. He is very energetic and is always jumping around in excitement. He is childish but deeply cares for his friends and will do anything to help them.

He is also proud of himself and his ego gets him in trouble many times.
Appearances
Tigger is a part of one of Disney's most popular and successful franchises and thus is a part of a lot of movies and cartoon series.

Some of the movies are; The Many Adventures of Winnie the Pooh, Winnie the Pooh and a Day for Eeyore, Pooh's Grand Adventure, and The Tigger Movie.
He is also part of many famous shows such as My Friends Tigger & Pooh, The Book of Pooh, House of Mouse, etc.


2. Bagheera
Debut: Jungle Book
Year: 1967
Personality
Bagheera is a virtuous and wise big cat from the Disney movies. He is kind-hearted and selfless. He is very caring towards Mowgli, the protagonist of the movie.

Bagheera is objective and stays in a serious mood most of the time.
Appearances
Bagheera appeared for the first time in Jungle Book in 1967 and became an instant hit character because of the popularity of the movie.

He is also the major character of The Jungle Book 2 and a cartoon called Jungle Cubs. He also has a minor role in House of Mouse.


1. Simba
Debut: The Lion King
Year: 1994
Personality
When Simba was a cub he was full of dreams and looked up to his father the most who he saw as fearless, brave, and strong. He sometimes acted cocky and tried to get into trouble to prove his braveness.

As he grew up he became more mature but the dream of becoming like his father still remained solid.
Appearances
Simba is a very well-known Dinsey character and probably the most famous big cat from Disney Movies. He first appeared in the movie, The Lion King in 1994, and after that, he was the main character in many more movies such as The Lion King 2, The Lion King 1.5.

He was also seen in supporting roles in many cartoon series like Timon and Pumba, The Lion Guard, and House of Mouse.