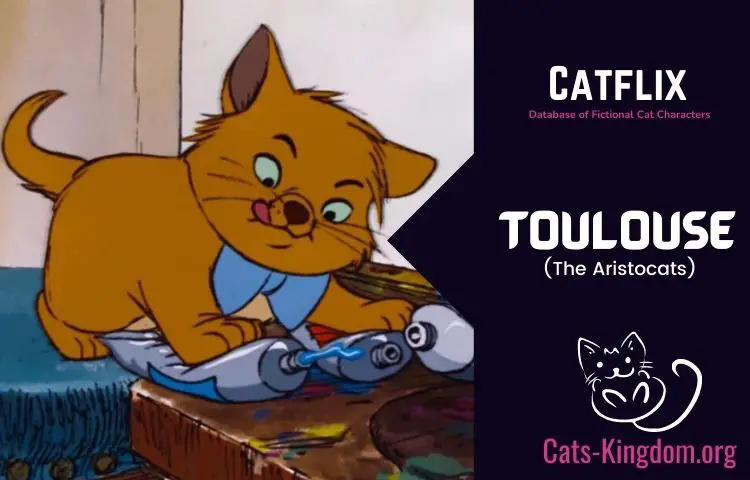 Toulouse is one of the major characters of The Aristocats. Toulouse is a little brown kitten who shines the brightest among his siblings in the movie. He is funny, sarcastic, and super fascinated by alley cats.


Movie Synopsis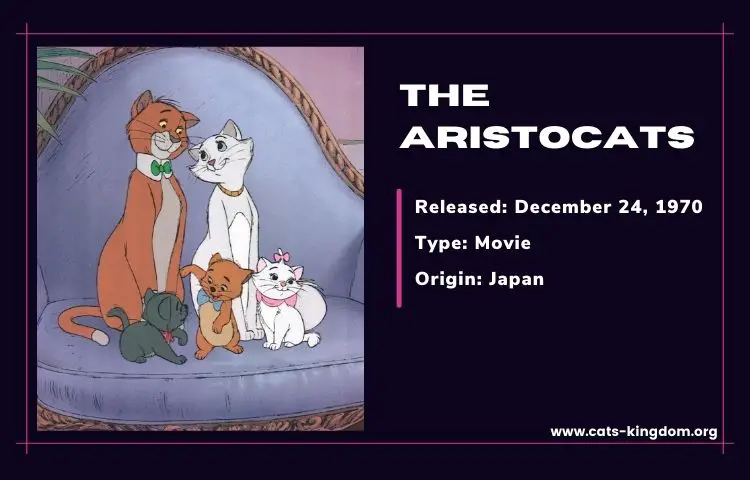 Toulouse is a little brown kitten who lives in a huge mansion with his mother, Duchess, brother, and sister. Their owner Madame Adelaide takes very good care of them and decides to leave her entire estate to her dear cats.

This angers the butler of the family, he drugs all the cats and throws them far away from the city. Upon realizing their situation, Toulouse and his family decide to find a way back home. They meet an alley cat named Thomas who decides to help them.


Toulouse's role in The Aristocats
Toulouse is the oldest kid of Duchess. He is a very chill cat character but he likes to act tough. He is very captivated by the aura of alley cats, he ofter mimics them.

Toulouse is a good painter and her mother makes him practice every day. When the butler drugs Touolse and his whole family, he was the only one who got a glimpse of him and told his mother but no one believed him.

He is very protective of his family and doesn't get scared in front of adversity.


Appearance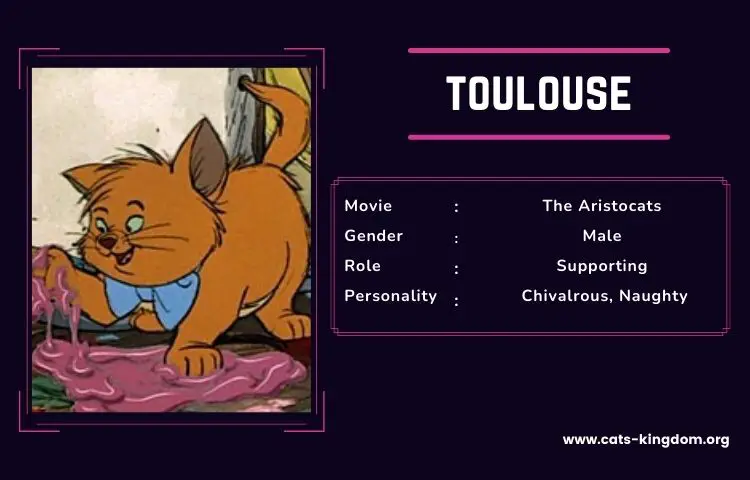 Toulouse has a long orange coat and green eyes. He has a lighter orange stomach. He wears a straw hat and bow tie made of long blue ribbon around his neck.

He is little for a kitten, but he also appears to be a little older than his two siblings.


Major Relationships of Toulouse
Duchess: Duchess is the mother of Toulouse. The mother-son share a very good bond. Duchess wants her son to be a gentleman but she also likes the goofy shenanigan of Toulouse.
Marie: Marie is the sister of Toulouse. She and Toulouse are just like any brother-sister, they bicker with each other but also care for each other. Toulouse likes to tease Marie and make her angry for fun.
Berlioz: Toulouse and Berlioz are brothers. Their relationship is not uh explored in the movie. Though there are two things common between them, they both are mischievous and they both like to tease Marie.
Thomas: Toulous relationship with Thomas is one of the most beautiful aspects of the movie. The two are good friends and Thomas teaches Toulouse the way of alley cats.


Facts About Toulouse
Toulouse looks like a younger version of his future stepfather, Thomas O'Malley, who is entirely light orange and has dark orange with white front paws.
The moniker "Tiger" given to Toulouse may also be a reference to his tendency to flaunt his toughness.
Thomas calls Toulouse by the nickname "Tiger" and has never once used his own name.
In several of the books, Toulouse is referred to as "Tu-Tu."
In certain publications, Berlioz is mistaken for Toulouse's brother, and vice versa.
Toulouse is pictured having an ear piercing in the storyboards for the canceled television show The Aristocats: The Animated Series.


Movie Clip: Toulouse Acting Tough
Catflix Review
Every cat lover's top 10 movies list includes The Aristocats, a renowned cat film. The film features many cat characters, but we'll concentrate on Toulouse, the orange kitten, and the impression he left on the audience.
The adorable cartoon cat character Toulouse plays a significant role in the film. He provides the required comic relief for the film and is also infamous and adorable.
Despite being few, his conversation usually makes us smile. Additionally, bravery is the one positive lesson we can learn from his characters.
The film is a must-see for children and is also suggested for adults.